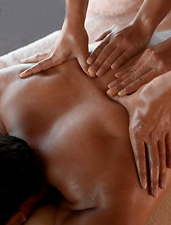 A wise sage once said, "The rhythm is going to get you."
And while that's certainly held true on the dance floor (where you've been known to break it down like a young Kenny Powers), you never thought it would apply to your spa visit. But as of today, it will. So you might want to review
Dirty Dancing: Havana Nights
to get your mind right...
Say hello to the
Rhythm Massage
, a new rubdown that takes a page straight out of the Latin playbook, now available at the Ritz-Carlton in South Beach.
Think of it as the 50-minute massage that Shakira would give you, if Shakira had gotten a degree in massage therapy. It'll start like any other amazing, borderline-heavenly spa session: you'll be led back to a room decked out in flickering candles and soft sheets, and you'll disrobe and settle in for the magic fingers of your masseuse.
But when she comes in, instead of flipping on the usual new-age chill-out music, she'll crank up the sound system with an energetic blend of meringue, rumba and Cuban big band. Then, she'll knead your entire body in tune with the cadences of the bongo drums and cancan shaking. She'll even drizzle mojito oil over your limbs, scenting the air with mint and lemon.
To be clear: the cancan shaking is on the stereo.