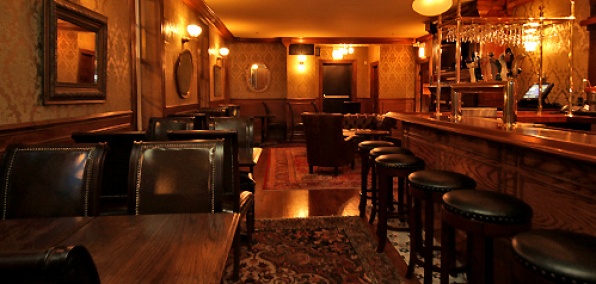 The scene: a dark corner of London, circa 1888.

You, Oscar Wilde and Jack the Ripper are sitting underneath a flickering gas lamp in the local pub, drinking scotch and generally being Victorian.

The evening is sailing right along (though you don't like the way Jack is eyeing that barmaid). But you can't help feel that something's missing.

Like some good Michigan ale and chicken wings. Well, at least one of you lived long enough...

Welcome to Owen & Engine, a cozy British late-night pub that believes in doing things the old-fashioned way—especially when it comes to pouring you a cold one—opening Thursday in Logan Square.

Like most good British alehouses, this comes by way of a rib shack—Fat Willy's next door. It has all the amenities you require after a hard day being lord of the manor: polished brass, frosted glass, fresh haddock for your fish and chips, and an upstairs parlor where you'll sink into dark leather couches with a scotch and some Bubble & Squeak. (That's British-speak for fried veggies, but you'll order it because it's fun to say.)

To wash it down, there are 20 beers on tap, but pay attention to the four thick, wooden handles on the end. They're connected to a revolving lineup of special hand-pumped, cask-aged brews, including Bell's Two Hearted Ale.

The scotch of Kalamazoo.