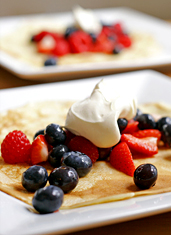 Just look outside. Summer ain't over yet.
To properly celebrate this weekend's heat wave, your requirements are simple―bottomless drinks and rooftop bocce, thanks.
Introducing
EatPlay
, WeHo's new alfresco Sunday brunch party at the Palihouse hotel, now taking reservations and happening weekly.
So here's how your Sunday will go down. First: you'll sleep in. (You'll need some time to process Saturday night. And to escort those backup singers to the front door.) Then: a little before noon, you'll get over to the Palihouse, cut through the lobby and head into a covert, walled-in courtyard that's actually a restaurant known as The Hall.
That's where you'll regale your friends with tales of your previous night over a BLT and crepes with baby squash. Oh, and drinks―$25 gets you an entrée and all the mimosas or Bloody Marys you can put down. But this is just the warm-up.
Now that you're loosened up, you'll all make your way up to the hotel's fifth-floor rooftop, which will be transformed into sort of a playground for adults. Expect a lively conflux of backgammon boards, badminton courts and cutthroat bocce tourneys all afternoon, and if you need to summon a pitcher of margaritas or a bucket of beer to get you through, so be it.
Bocce can be very taxing.