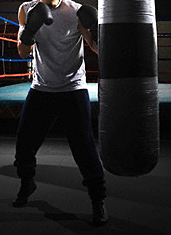 Sometimes you want a fancy gym. DJs. Flat-screens. Diamond-encrusted towels. All that good stuff.
And other times you just want a punching bag, some leather gloves and the pungent scent of the canvas mat.
A few Muhammad Ali footprints wouldn't hurt either...
Say hello to the
5th St.
Gym
, an old-school boxing gym that makes other old-school boxing gyms look like dance salons, reopening this weekend for all your haymaking and 3%-body-fat needs.
Simply put, this is the cathedral. Opened in 1950, nicknamed "Oz" and overseen by the Dundee brothers (you might have heard of Angelo), this is a living, breathing museum of pugilism, a place where everyone from Muhammad Ali to the Beatles has thrown punches. (Lennon's right cross: legendary.)
And now that it's been reawakened after a 17-year TKO, you'll want to come in, grab yourself a locker, push in a mouthpiece and head into the glistening, refurbished ring with only one thing on your mind: going all
Million Dollar Baby
on someone.
Of course, if pulverizing tax attorneys isn't your thing, you'll be happy to know that this is the new, more diverse 5th St., with a ton of group classes like Cardio Kickboxing, MMA, the Israeli self-defense discipline Krav Maga and even something called Hot Box.
Always protect yourself in Hot Box.