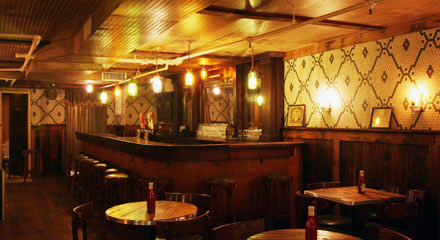 Ah, the financial district.

Home to clogged weekday streets and eerie Vanilla Sky-style weekends, it's never been a great place for a quick burger. And with midtown lunch becoming an industry unto itself, the way-downtown hood has had a hard time keeping up.

Well, no longer. The financial district is about to get a new burger spot, along with a dose of Old New York style. Welcome to Burger Shoppe, opening Friday.

Born from the grill-crazed mind of Pop Burger's Kevin O'Connell, Burger Shoppe takes its retro décor seriously—the display was salvaged from an abandoned diner in Philly—and proves it by serving up 1925-style patties. That means tiny 4-oz nuggets of beef, served fast enough that you'll have no problem managing the crowds. Add in a few boardwalk-style onion rings or some skin-on shoestring fries—bundled with a pair of burgers and a soda for a sawbuck—and you should have more than enough to keep you busy.

And if you stick around for happy hour, you can check out the meatier barroom menu in the more subdued digs upstairs. The real prize here is a trio of items you don't usually see at the local diner: Roasted Marrow Bones, Hot Short Rib "Pudding," and the house filet with goose-fat hash browns and creamed spinach.

In case you prefer your nostalgia with a little goose fat.