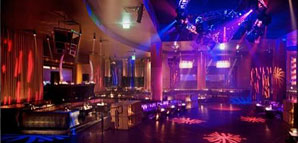 It might not grow on trees but in Vegas, money absolutely does fall from the sky.

For Prive's Money For Nothing industry night on Mondays, managing partner Justin Levine instinctively knew what would quicken the pulse: cold hard cash.

There's no warning before the 5,000 one-dollar bills rain down from Prive's trusses—none but the sudden arrival of the Dire Straits song for which the party is named and perhaps some not-so-subtle migration towards the center of the room. As the night is hip-hop centric—like Fridays at Mansion Miami, it's one of Levine's signatures—the song sticks out like a sore thumb. But in a flash (a blast of compressed air, really), it's over. Bills not snatched from the sky are scooped up from the ground and for about five minutes, economics trump anatomy on the dance floor.

Of course, you'd never stoop to chasing Washingtons around a nightclub but it's the savage nature of the fleeting spectacle that makes it a must-see, though not necessarily a must-do, when in Sin City.

Come on, you've dropped $5K in the blink of an eye. You know just how much fun it can be.