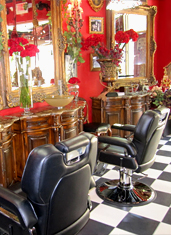 Wiseguys in pinstriped suits. Flapper girls. A big band soundtrack. Strong martinis.
No, we're not talking about
Boardwalk Empire
.
We're describing the probable scene tonight in Mary Brickell Village. That's where you'll find the grand opening of
Razzle Dazzle Barbershop
, complete with an open bar and plenty of 1920s-era fedora-ness.
First, let's get you a few facts about the place. It's a lot like the original shop in Coral Gables, but bigger. Walking in, you'll notice the trademark red walls, oversize mirrors and barbers sporting black vests and bow ties. But instead of four barber chairs, you'll count seven of them.
All your favorite services are here—$20 haircuts, hot-lather shaves, straight-razor shaves. You can get your head, neck and shoulders massaged at $1 a minute, as well as shoe shines and hand treatments. And to loosen you up a little, you'll be offered a shot of whiskey or vodka before your cut.
As for tonight's party: you can look forward to half a dozen cabaret dancers and complimentary vodka and rum cocktails, plus food from nearby restaurants like Balans and Rosa Mexicano.
Nothing says 1920s like guacamole.