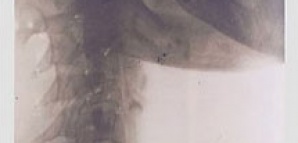 On the road, in bed, in the shower—inspiration is often found in unexpected places.
If you're artist-director-rapscallion
Julian Schnabel
, that place is a random house on the Normandy coast—where he made a discovery that led to
Christ's Last Day
, a new exhibit debuting tomorrow in Beverly Hills.
The story goes that Schnabel had just wrapped filming on
The Diving Bell and the Butterfly
, for which he might have a Best Director statue waiting at the Kodak Theatre come Sunday. With his head already filled with thoughts of biology and frailty—the film relays the true story of a paralyzed French writer who dictates his entire memoir by blinking one eye, his only functional body part—he stumbled across an uninhabited Berck-sur-Mer residence that happened to be filled with mysterious X-rays from the early 20th century.
You'll find Schnabel shows uncharacteristic restraint in his refusal to add much to the stark paintings he derived from those images...though he did blow the skeletons up to gigantic proportions. (The pictured piece is actually almost 14 feet tall.) You might think the show represents a profound method of examining the inner workings of humankind, or you might think it's utter nonsense. Either way, Schnabel will be at the opening reception to hear your pontifications.
Just in case you find yourself inspired.