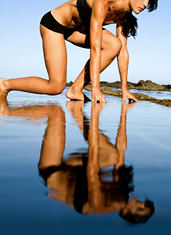 Doing sprints on the beach: no thanks.
Doing sprints on the beach surrounded by Dolphins Cheerleaders: consider us Apollo Creed circa
Rocky III
...
Introducing
Trinity Beach Bootcamp
, the only outdoor workout group in the city helmed by the head trainer for the Miami Dolphins Cheerleaders, now taking new members.
We'll get to the workout in a second, but first, let's meet your instructor, Reggie Williams. He's a former US Navy man who's been whipping the Dolphins dancers into shape for a few years now, and just recently decided to take his regimen to the sand.
There'll be no barking orders, no sit-ups and no push-ups. Instead, you'll be using elastic bands to do interval training like ab work, strength building and beach cardio for about 60 minutes. (1982 short-shorts optional.)
The group meets three times a week—Mondays, Wednesdays and Fridays at 7pm—and classes are usually limited to 12 people. To get started, all you have to do is show up at the lifeguard stand on Sunny Isles Beach with a towel and a bottle of water.
And since your instructor is tight with the Dolphins girls, don't be surprised if a few of them decide to join you for a workout.
You'll recognize them by their pom-poms.