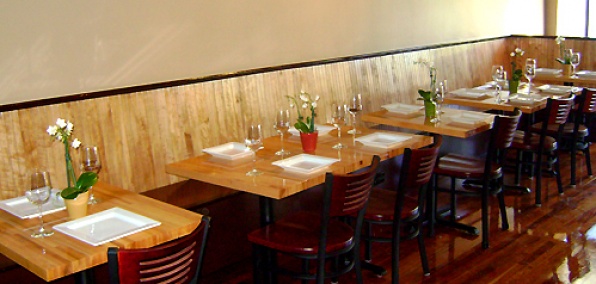 Brookline. Let's review.
Good: the tree-lined streets. The genial atmosphere. The lush parks. The Upper West Side-ness of it all.
Bad: the relatively early closing time of many bars and restaurants.
Here to take some of the bad away:
The Abbey
, 40 seats of late-night watering hole-ness for cold beer, small plates and ample scotch, softly opening tomorrow in Washington Square.
Think of the Abbey as the kind of neighborhood place you hit up when it's just been... one of those days (read: Thursdays). When the only thing that will take the edge off is several ice-cold, locally produced draft brews (Wachusett, Cambridge Brewing Co.) and a few late-night
small plates
(kitchen's open till 1:30am).
On those nights, you'll want to saunter in, give a heads-up to some familiar faces and take a seat at the exposed-brick bar for some sizzling
Fried Halloumi Cheese
and
Smoked Cod Fritters.
You'll also be happy to know it'll serve well as a date spot (we're thinking casual third-date), where you can sit down to some
Bison Bolognese Pasta
and
Hanger Steak Frites
in the stretch of banquette tables.
And should your date be as pro-scotch as you (the best ones are), you'll both be treated to a
20-plus single-malt scotch selection
spanning the regions of Scotland.
No, William Wallace isn't a region.