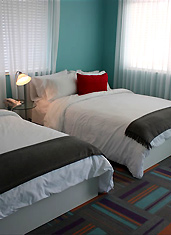 There are two types of hotels in this city: the giant, posh behemoths with their glossy bars and spacious lobbies. You love these, obviously.
But then there are the charming little neighborhood spots, offering something a bit funkier.
Today, meet the latter: the
New Yorker Boutique Hotel
, a 1950s motel reborn as the first indie hotel on the Upper East Side, now offering rooms for $75 a night.
The outside of the building evokes Don Draper on a Florida getaway, all mid-century retro swagger, while the rooms mix modern Scandinavian-type furniture with pastel paint jobs and terrazzo floors. (Tip: request the Soho Suite, with its balcony overlooking Biscayne and a martini-ready wet bar.)
You'll also like that there are plenty of places to eat nearby: Michelle Bernstein's restaurant is just up the street, as is the scrappy Red Light on the river. And it's close enough to the Design District that come Art Basel, this is where you'll send those out-of-town DJ friends who'll stumble home after late nights at the galleries.
The owners are slowly renovating all 55 rooms (they're halfway done), and there are plans to add a bar. In the meantime, the place to be is the swimming pool, which is open 24 hours a day and seems to be where the foreign travelers congregate.
Skinny-dipping does wonders for jet lag...