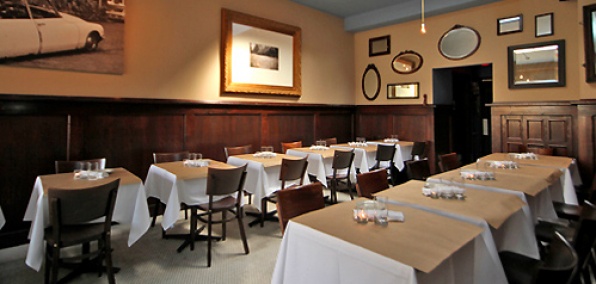 Snert.

You know it. You love it. You're craving a heaping bowl of it.

Okay, so none of that's true. But come Friday, your snert awareness level is about to skyrocket.

Introducing Vincent, a cozy side-street bistro in Andersonville, endeavoring to redefine the term "Dutch treat."

Basically, it offers all the decadence of a typical night in Amsterdam. Actually, that's not true either. But they will have snert (aka split pea soup), crispy frites, five kinds of mussels and 12 kinds of gin. So, not Amsterdam—but a pretty good start.

Located in the space that was until recently La Tache, Vincent is still filled with dark-wood paneling on the inside, a shady patio on the outside and a snug bar right when you walk in. You and a date can get to know each other over cocktails made with jenever, the Netherlands' traditional spirit—or what the British call "Dutch courage" (not that you need it). You'll proceed to the dining room for an evening that starts with foie gras and escargot, then moves into lamb burgers and Moules Frites, including one version smothered in a marinara.

And on those Sunday mornings when your Saturday felt like a night in the red-light district, you'll find salvation in rock shrimp frittatas, fried oysters scrambled eggs and five kinds of Bloody Marys, including one served with a fried pig's ear.

From the Van Gogh of pigs.