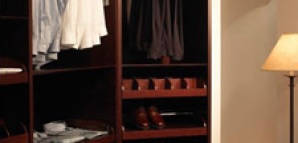 True style means showing flair in unexpected places.

Sure, your living room is impeccable, your kitchen surprisingly sleek, and your bedroom—no problems there. But more likely than not, your closet is a tad...ordinary. So you may want to pay a visit to the new company LA Closet Design.

Hawaii-born beauty Lisa Adams considers your closet an unrealized room in its own right, where a man of style can spend his leisure time rather than just getting in, getting dressed and getting out. So she'll put her years of high-end closet-enhancement experience to use customizing your space with leather handles, pull-out tie trays, glass-front drawers and hidden safes. But she's also prone to more extravagant touches—your new closet, if it can still be called just a closet, might also include a couch, flat-screen TV, wine storage and cappuccino bar.

If she does too good a job organizing your wares and you suddenly have some shelves to fill, don't worry, she'll help you shop for clothes as well.

Though you might have to step into your closet and make her a cappuccino first.