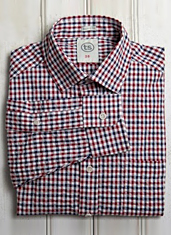 Most of the time, a shirt is just a shirt.
But when you add in some shuffleboard and a flask of moonshine into the custom shirt-making process, then maybe things start to get a little interesting...
Welcome the
Taylor Stitch Studio
, the brick-and-mortar command center and clubhouse for a trio of made-to-measure shirtmakers, taking appointments now on Polk Street.
While these guys will still make local house calls for fittings if you insist, we think you might prefer their new place instead. And because it's more like a grown-up playhouse than an actual work space, you might find yourself stopping in here even if you're okay in the shirt department.
If you do go the custom route, your best bet is to make an appointment for the fitting. After they buzz you up to the loft, they'll take your measurements and go over the nearly 200 swatches of stripes and plaids for your shirt. And with a few couches, a hammock chair, an 18-foot shuffleboard table, vintage leather boxing gloves and a lacrosse stick, it's like you're training for some sort of living room Olympics.
Where the Tennessee moonshine is your Gatorade.