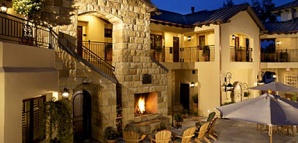 An expected surprise is hardly a surprise.

So while other flailing Casanovas fret about the Valentine's Day ticking clock, you're already pondering your next spontaneous "just because" getaway—which means now's the time to consider the proudly yesteryear-ish Hotel Cheval in Paso Robles.

The quaint rusticity that might be too cloying this Thursday—note the crackling outdoor fireplaces and the homey library—is just what makes it an appealing respite on...well, any other day. (You've always gone against the grain.) Once you've made the drive and graciously deflected all the "you shouldn't haves," you'll settle into one of just 16 rooms—make sure to reserve one of five luxury rooms upstairs with vaulted ceilings and shuttered windows—and commence with your regal lounging. You'll need the rest, because Paso Robles has nearly 200 wineries to explore.

But if you're truly embracing the Cheval spirit, you might even be convinced to take a spin in the carriage drawn by Chester, the Belgian draft horse from the Amish country who now enjoys a leisurely existence trotting guests to the local restaurant of their choice in exchange for just 60 pounds of hay a day. (See also the wine-soaked Pony Club and its horseshoe-shaped zinc bar.)

All in all, it's a bucolic complement to urbanity...don't worry, we don't know exactly what that means either.