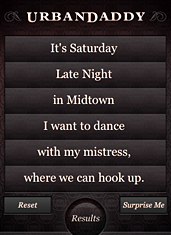 We'd like to respectfully ask that you empty out your pockets.
And after you sift through the keys to your getaway car, a few spare yen (you never know) and the keys to your other getaway car... look again.
Surprise... It's us.
We're sneaky like that. Behold the UrbanDaddy iPhone app,
The Next Move
, your new pocket concierge for navigating through the hidden exploits and key decisions of daily life, now live in Atlanta.
To put it another way, it's like having a fun-size UrbanDaddy editor in your pocket at all hours of the day and night, whispering sweet nothings into your iPhone's ear. And what you get out of the deal are real-time, on-the-go answers to your most pressing and immediate questions.
Like what to do if you find yourself rooftopping in Midtown with friends, but you're getting the itch for good scotch in a more cougar-friendly habitat. Or when you're out to dinner with a client on Wednesday night in Buckhead, but you happen to think she would look a lot better dancing to '80s music at a dive bar. Maybe you're even looking for the best brunch spot on a Tuesday to rekindle the flame with your mistress.
Just plug in your situation, and we'll take it from there, providing you with all the highly filtered UrbanDaddy suggestions you need to see you through to the finish line.
Or at least a Thursday night.