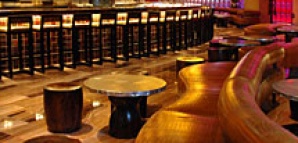 130 tequilas, a trio of ceviches, two rotating DJs...and 1112 skulls.

Debuting tonight, Sala Lounge is restaurant-thinktank B.R. Guest's first installation of their new lounge concept in the first Dos Caminos location outside Manhattan—and the perfect stop for when you want a bar and then some.

Aiming for an authentic Mexican bazaar look, Sala is spotted with rustic wood stools, hammered metal tables, and snakeskin-embossed leathers (if that doesn't say Mexican Vegas, we don't know what does). Above the bar, a peculiar graveyard scene of glass and wood peers down from the wall as the clientele (that means you) sips tequila at one of the 30 VIP tables or semi-private indoor cabanas. Beyond, hundreds of snakeskin lanterns and those 1112 skulls lead the way through a 365-seat dining room complete with a candlelit, limestone "temple" façade.

After the signature Dos Enchiladas or made-to-order guacamole, flip through mixologist Eben Klemm's opus which includes the $140-a-shot "Louis XIII of tequila," 1800 Colección. But plan to arrive early for Sala's industry Monday or the choicest tables on the elevated VIP stage might already be spoken for.

As you may recall, the early bird gets the worm.