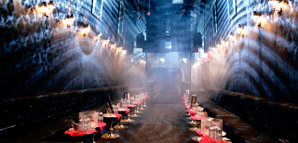 A lot can happen in three months.
A summer can run its course. A basketball team can get LeBron'd. A baseball team can... lose 62 games.
But all of that pales in comparison to this (okay, most of that pales in comparison to this): a Brickell nightclub that doubles its square footage... and potential debauchery-age.
Say hello again to
Spazio Nero
, back after a three-month hiatus and oozing with glossy blackness, reopening this Friday.
You of course remember this cave of DJ-fueled hedonism located in the back of Segafredo Brickell. But stepping in now, you'll hardly recognize it. First of all, it's gotten much, much bigger—they've taken over a retail space next door, so it's gone from 2,000 to 5,000 square feet (not unlike your butler's bedroom).
And possibly because its name is Italian for "black space," Spazio has also gotten much, much blacker. (Its slick designer also did Mansion and the Forge.) So you'll be happy to know there are now black couches in the VIP area for you to sit on, a black marble bar for you to drink near and a black crocodile-covered DJ booth for you to request songs from.
Wear something white.