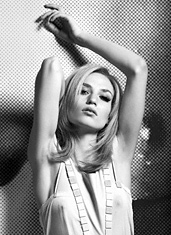 In this life, there are some ideas that deserve to fail.
Prohibition. Announcing career moves with a live one-hour ESPN special. Fighting a land war in Asia.
And there are some that desperately deserve to succeed. Among them: a LinkedIn social network type site solely for models, actors and actor-models. And those who love them...
Introducing
Talent Maven
, a new site devoted to helping you surround yourself with the kind of talent you deserve, available now.
Let's be clear: this isn't the place to book a yachting tour with Kate Moss, or schedule a quick bongo jam with Matthew McConaughey. It is, however, a sort of online casting couch: a website filled with the kind of up-and-coming talent that needs support from eager supporters of the arts (particularly the modeling arts). You know, like you.
So you'll sign up, pick your area of expertise (director/stunt double not yet an option) and be presented with a Facebook-like array of potential talent. And then, it's time to start casting: whether you need a fresh-faced brunette starlet-in-training for your next action flick (
Lieutenant Maverick Danger, MD
), or just an unsigned up-and-coming model from Ottawa (you have your reasons), you can find her here. Of course, if you've been looking to scratch that acting/hand-modeling/body-painting itch, you can list yourself as talent and scroll through a bevy of auditions to find your next gig.
Just remember that what happens on the casting couch, stays on the casting couch.