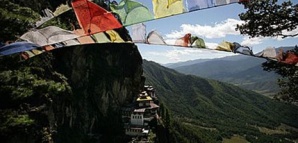 As much as you like fresh things, you don't usually find an entire country this untouched. Until—cue the dramatic drumbeat—now.

The tiny nation of Bhutan, tucked high in the Himalayas, hasn't exactly kept pace with the modern world. The national newspaper publishes twice a week, the first televisions arrived in 1999, and until recently, the state has strictly limited tourist passage through its gates, guarding the purity of its kingdom like a pristine daughter.

But in the last few years, the "Land of the Thunder Dragon" has slowly opened its dramatic mountain-scapes, ornate temples and old-school Buddhist charm to the rest of us. And with the unveiling of the country's first five-star hotel, your date with Bhutan has arrived.

Taj Tashi debuted just last month in capital city Thimphu, bringing with it a few concessions to modern luxury—starting with WiFi, an in-house spa, and Thimphu's only golf course. But rest assured, the mountain views from every room never let you forget you're in Bhutan. After exploring the temples, trekking the nearby mountains or joining a notoriously raucous archery tournament, unwind at the Taj's Bhutanese restaurant, where you'll want to try the chili-cheese ema datshi or a stiff arra—the infamous local whiskey.

The bar, like Bhutan, is open for business.