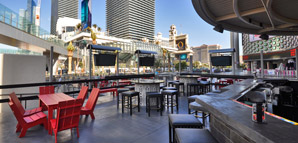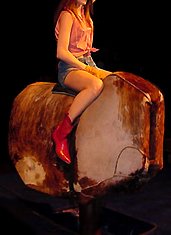 Maybe you've had a rough go. You lost it all doubling down on 19. You have vague memories of making the acquaintance of a cocktail waitress named Lola. You accidentally took a cab to Reno.
We say it's time to do one thing: get back in the saddle. And grab the bull by the horns.
Introducing
PBR Rock Bar
, the Strip's new palace of bull riding, bourbon and the life-changing combination of the two, soft-opening August 22.
First, about that PBR: it stands for "Professional Bull Riding"—which makes this your new go-to for late-night feats of cowboy machismo. The first thing you'll notice is the PBR-approved mechanical bull in the back, taken from a nearby official training facility. There's an onboard camera built right into the bull's head, so the rest of the bar can see your face on a big screen overhead while you're conquering the mighty beast. (Luckily, it's not your first rodeo.)
Afterwards, you'll celebrate victory with a few short rib sliders by the fire pits on the patio, or take a turn through the daiquiri bar—because nothing says "cowboy" like a good daiquiri. After that, turn your attention heavenward, to the tire swings jetting back and forth above the crowd, each steered by a lovely cocktail waitress. Or make your way to the front—past the wall of bull skulls and the alligator-skin banquettes—and direct your gaze to the ladies-only catwalk above and behind the bar, where you'll see a line of Vegas cowgirls doing their best to distract whoever's riding the bull.
And unlike the riders, they can use both hands.