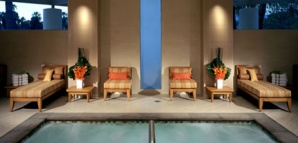 To fully recharge, it's occasionally essential to step away from your day-to-day obligations.

As in geographically. Consider the recently erected Spa DesertSprings in Palm Desert—at 38,000 square feet, it claims to be the largest oasis of relaxation in Southern California.

You'll find impressive innovations (think digitally programmable rain showers) and international touches like Turkish hammams (oil-infused steam rooms set at 105 degrees), but the overarching theme is charmingly local—citrus and other ingredients used in treatments are harvested here, and design elements like geodes behind the lobby waterfall recall geological shapes of the desert just outside.

Suite configurations cater to couples or even larger groups of corporate-retreaters who don't mind seeing each other in bathrobes. And because you'll be in the middle of nowhere, the effects of your CryoTherapy Sports Massage—which utilizes an impressive self-heating mud to prep your muscles for the imminent rubdown—can be relished longer than usual, since you won't have to follow it up with a vigorous bout of city traffic.

But the most enticing feature is the VIP "Spa Sanctuary," the private suite with a separate entrance that includes a living area with flat-screen and fireplace, a walled-in outdoor tub for two...and a butler catering to you and you alone.

So he won't have to see any of your colleagues in a bathrobe either.