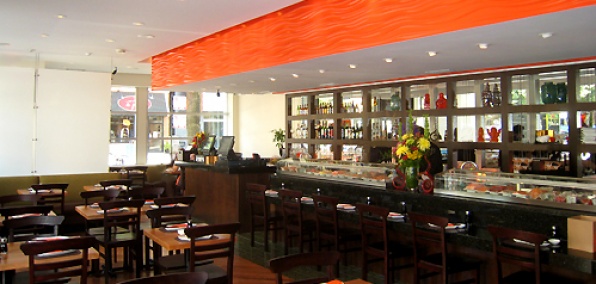 Maybe it's the heat. Maybe it's the humidity.

But something deep-seated and a little strange takes hold of you this time of year. It's a fever. An urge. You're left feeling edgy. Itchy. And a little thirsty.

We're no doctors, but you need an ice-cold piña colada infusion.

Welcome Hot Woks Cool Sushi, your new late-summer respite of tropical cocktailing and Asian cuisine in Roscoe Village.

At the neighborhood outpost of the popular spot on Michigan Avenue, your night begins, as it so often does, in what looks like a futuristic airport lobby—all orange-and-white minimalism and a long sushi bar. (We predict all airports will have really good sushi bars by 2027.)

Soon you're surrounded by servers bringing you fresh fish and all the cocktails you need. Yes, ordinarily you would start with a bottle of sake, but in this weather, HWCS's version of a margarita—Mango Madness—is an acceptable substitute.

Suitably relaxed, you can now start exploring the rolls—Obama-nami (a presidential mix of salmon, unagi and avocado) or the Cubs-inspired Fukudome (shrimp tempura, mayo, masago, chili sauce)—before settling into a night of Chardonnay Garlic Chicken or a simple bento box with a nice, crisp glass of Riesling.

The tiny umbrella is strictly up you.