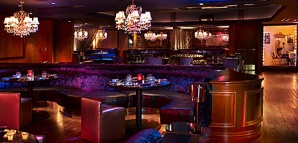 The initial hype may have subsided following CatHouse's debut, but we have a feeling the pseudo-scandalous new restaurant and lounge will be entertaining people for quite a while longer.

Climb the stairs (or take the elevator) to a richly decorated 19th-century bordello complete with private booths, sepia photographs, decadent chandeliers and a touch of naughtiness—soon, peep holes in the faux hallway doors will deliver an eyeful of vintage French erotica (it's tasteful if it's vintage).

Chef Kerry Simon serves up his take on American comfort food nightly from within CatHouse's royal blue Chandelier Room, only this time dishes like Black Pepper Chicken Wings with Watermelon Salad and Pigs in a Duvet are available tapas-style. But wait for Friday, Saturday or for Madame Mondays and the Loungerie opens, conjuring up images of the roaring parties of a bygone era.

After dinner, the Chandelier room follows the Loungerie, slipping seamlessly into house music and free-flowing booze. Better still, as the evening progresses, CatHouse Coquettes primp behind a two-way mirror and perform sexy, choreographed numbers in the house's signature lingerie—for sale, of course, should you find yourself in need.

In Sin City one does want to be prepared for every eventuality.