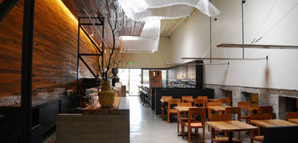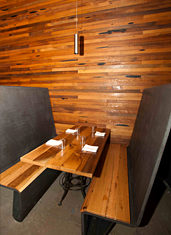 The DJ-per-capita around 11th and Folsom is notoriously robust.
So when we heard about the debut of a DJ-free tavern serving artisan cocktails and farmhouse dishes in clubland's command central, we thought we better scope it out.
And we have good things to report…
Introducing
Bar Agricole
, a massive gathering place dedicated to the majestic trio of rum, tequila and late-night fare, opening a week from today.
The Hercules of city bistros—dishing out haute pub fare, mixing an
El Presidente
left and right, pouring wines other wine bars wished they had—Agricole is the kind of hangout where you can go on any given night for stuffed quail and California pure cane rum and find yourself surprised by the sudden appearance of last call.
The name etched on the corrugated metal exterior and raised plant beds mark the entrance. And while the name translates to "farm bar," it feels like the kind of sleek, urban warehouse you'd find in New York's Meatpacking District, with walls made of whiskey barrel staves, concrete booths (which are far more comfortable than they sound) and skylights connected to luminous glass tubes that coax the light in.
In a few months, they'll be open all day, starting as early as breakfast. So after a few nightcaps, you can return in the morning for a strong cup of coffee—or some hair of the dog.
And by morning, we mean whenever you get up.