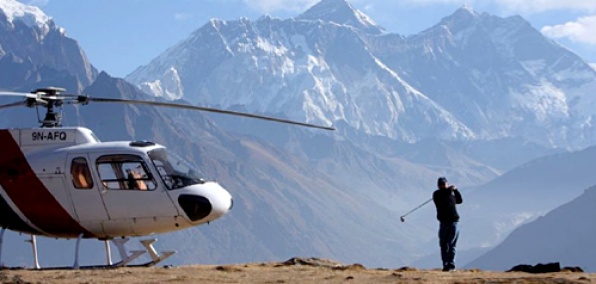 Everest.

The name alone conjures up images of weathered Sherpas, frozen tundra and the world's greatest explorers racing each other to the top.

Also: golf.

Welcome to Nepalese Heli-Golf, a guided tour of the highest tee-off spot on the planet, taking reservations now.

In short, it's Nepal's answer to Pebble Beach, settled 14,500 feet above sea level and just 15 miles from Mount Everest. You'll start out in Kathmandu, where you'll take an early-morning helicopter ride over Everest's base camp and up into the clouds. Destination: the Kongde Lodge.

The course here is only two holes, but that thin air will give your drive some serious hang time. (Think of the Himalayas as the moon, and you're an astronaut.) But be warned: if you slice, your ball will be headed straight for a gorge—so don't count on getting it back without a Sherpa.

After that, you'll head back to your hotel, tour the temples of Kathmandu and prep for your crucial golf excursion the next day. A full 18 holes await you on the more down-to-earth golf course at the nearby Gokarna Lodge—the former course of the Nepalese Royal Family.

No Sherpas required.