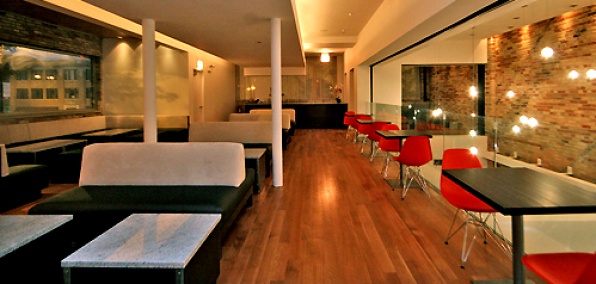 Today, we take you to the mean street they call... Randolph. Turns out, it still has a surprise or two left.

So let's go on a journey to its farthest reaches. Down past the Blackbirds, the Girls, the Goats, the luxe White Sox bars, the improbably lavish baba ghanoush palaces.

You'll see it soon. Something's happening.

Welcome to Sawtooth, a plush new Friday night spot soft-opening tonight to ply you with French-tinged Vietnamese tapas and American-tinged cocktailing. If that doesn't work, they also make a pretty mean chicken wing.

From the street, you'll see a strange, soft glow emanating through glass walls. You'll investigate. Pass through the courtyard patio, and then immediately you'll enter and see an angelically glowing glass-topped bar. Take it as a sign: you need a drink.

As you sip a Summer in Saigon (gin, cucumber and lemongrass), a Da Lat-A Love (house-infused strawberry vodka and ginger syrup) or maybe just a shot of good whiskey, you'll realize you have a tough choice: upstairs or downstairs.

You could easily hang at the bar, mingling over skewers of grilled prawns or garlicky Sawtooth Wings, coated in a sweet glaze. But in a dimly lit lounge on the second floor, you and a group of friends can pull together a few of the modular tables and begin a night of spring rolls, clay pot chickens, hot and sour calamari and tamarind roasted ducks.

Nothing says Friday like modular tables.