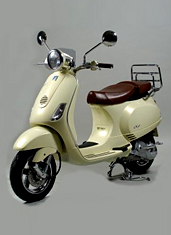 We were in your dreams last night.
We watched as you headed west on Alligator Alley on your own Vespa, gobbling up great swaths of the Everglades, Shakira sitting snugly behind you, her arms wrapped around your washboard abs.
Good news: everything but the washboard abs and Shakira can be yours.
Making the rest of it possible:
Roam Rides
, Miami Beach's only Vespa rental service, now available.
If you've ever wanted to explore our city's winding back roads and proverbial nooks and crannies—or just feel the adrenaline rush that comes from going upwards of 40 mph on an Italian scooter—this is the way to do it.
Securing your own classically styled cherry-red LX50 couldn't be easier:
book online
or over the phone, and somebody from Roam Rides will whisk it to your door (they deliver to anywhere on Miami Beach and even parts of Brickell and downtown). After a quick riding lesson, you'll be free to hit the open road, channeling Gregory Peck in
Roman Holiday
(or Deuce Bigalow in that other classic,
Deuce Bigalow: European Gigolo
).
And when you've had enough Italian motor-charged fun, Roam Rides will drop by and pick up your hog, no questions asked. You don't even need to refill the gas tank.
Although you should probably stop referring to yourself as Giancarlo.