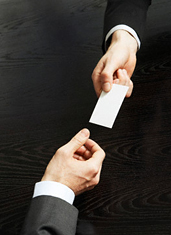 It finally happened. You cornered the Pentagon's Chief of Psy-Ops at a cocktail party, sold him on your plan to relentlessly bombard the Taliban with Justin Bieber songs, and even came away with a trophy: his business card.
But then, your night got the better of you. And somewhere between the after-after-party and waking up in the visitors' dugout at Nationals Park, you lost the card.
It won't happen again, because along comes
CardMunch
, a new mobile app devoted to making sure you never lose another card, available now.
It's basically a virtual rolodex, populated by a staff of actual human beings (not robots), who will know that the future client you just met is not named "K Street."
So the next time you get a card, you'll point your phone's camera at it. The image will be sent off to CardMunch's HQ in Northern California, where a minimum of three staffers will painstakingly review it and upload it to your phone's contacts, all for the princely sum of... a quarter.
And should you dunk your phone into the Potomac, not to worry: the app automatically backs up and syncs your contacts.
You wouldn't want to recreate Barack's card from memory.