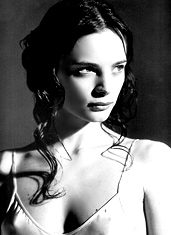 You may see an image of
Gabrielle Anwar
and think, "Ah, right, the girl from
Scent of a Woman
." (Or, depending on your fondness for Michael J. Fox movies, "Ah, right, the girl from
For Love or Money
.") But of course, now you know her as the kick-ass, bikini-wearing bounty hunter on USA's
Burn Notice
, filmed right here in Miami. We sat down with the stunning Brit to talk about those bikinis. Among other things...

UD: What's the best part about filming Burn Notice in Miami?
GA: Every minute of our day is unpredictable. I'm not a very keenly monotonous person, so any excuse I have to mix it up a little and I'm a happy camper. You'd think I'd probably respond, "Oh, the explosions or running around in a bikini with a shotgun." But that's getting kind of old hat now.
UD: You are in great shape with those bikinis. What's your secret?
GA: I practice yoga. I try to squeeze in as much as I can throughout the week. I used to be much more regimented about making sure that I did a full vinyasa flow class. Now, I've become more lenient with myself. And I'm slowly but surely weaning my way out of the bikini.
UD: Just tell us you're not going to abandon your bikini completely.
GA: That I can't promise. It depends on how many seasons we're renewed for. I may find myself in one of those walkers with my bikini on.
UD: What has been the cheesiest pickup line you've heard in Miami?
GA: "My friend and I were trying to decide how old you were." I said, in perfect English, "I'm sorry. I don't speak English."
UD: What do you think of Miami men?
GA: I've actually just met one that I'm rather keen on. Before meeting the man I'm rather keen on, though, I was a little concerned that it was a romantic wasteland here. Many men are drawn here to make better versions of themselves, and are a little off-kilter when it comes to defining what that might mean. It's not about the most spherical breasts and the flashiest sports car, in my humble opinion.
UD: What's your favorite restaurant in Miami?
GA: The Forge. I usually end up ordering the lobster, peanut butter and jelly sandwich, which sounds ridiculous and tastes equally as ridiculously delicious.
UD: Have you gotten caught up in LeBron James fever?
GA: I might by default simply because it's everything everyone is talking about here. I may even find myself at a game, which would be the first time I've ever participated in anything athletic in my life.
UD: When you aren't working, what is a perfect Miami day for you?

GA: It would be horizontal, in the garden, with one toe in the swimming pool. And a damn good book.