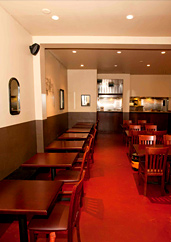 True intelligence is knowing what you don't know.
True genius, however, is taking that knowledge and finding someone who can fill in the gaps.
Which is why you should know about
B3
—a hybrid urban tasting room and restaurant introducing you to underground cult wines you didn't know existed and throwing in some gourmet burgers for good measure—opening next week on Valencia.
Technically known as B-Cubed—short for bottles, burgers and bites—this will be the wine den where you'll unearth varietals from obscure, under-the-radar wineries that are too small or renegade to even have their own tasting rooms.
Of course, with a Bouchon vet in the kitchen (not to mention that burgers and sausages are involved), you won't want to discount the burger part of the equation. There are a dozen-plus burger toppings, running from pan-seared foie gras to house-cured pancetta and a fried egg. But we'd suggest starting with the bourbon-brown sugar bacon. (After all, bourbon, bacon and burgers are a different set of cubed B's we can stand behind).
You also have two options for happy hour each night: either from 3 to 6 o'clock or from 10pm to midnight. Both are your chance for a bottle of wine and two burgers for the price of two burgers.
It's always good to have options...