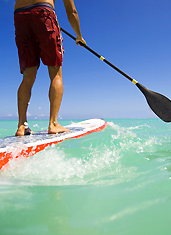 This weekend could be treacherous.
Storms. Wind. Rain. Pestilence.
At this point, some would run and hide. Duck and cover. Drive to Tampa.
You—you do the only thing you know how: you paddleboard.
Introducing
Stand-Up Paddleboarding at the Standard
, a wildly fun alternative to boarding up windows or any other hurricane-preventive nonsense, now available on Miami Beach.
As you know from your time on the tour, this sport is like a cross between surfing and kayaking, allowing you to masterfully glide through the crystal blue waters of the Bay like a golden Venetian god/gondolier.
Run by the surf dudes from South of Fifth's F1RST Surf Shop (all of whom have 15+ years' experience), the setup involves a rental shack in the backyard of the Standard every weekend starting Friday afternoons, and instruction and tours that run $50 to $75 an hour.
So imagine it: guided by your paddleboard Yoda, you'll use a super-long board—thicker and wider for extra stability—to find your sweet spot, then leisurely glide and paddle past yachts docked at Sunset Island and cyclists on the causeway (try not to be blinded by the spandex).
And afterwards, you'll head back to the wooden deck at the Standard for a post-boarding dip in the pool and a few cold beers.
Cold beer is the Gatorade of the paddleboard community.