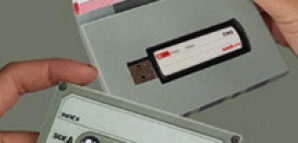 In this ever-changing world, the best of traditions must either fade away...or evolve in unexpected ways.

A fine, wry example of survival via evolution is the Mix Tape USB Kit, a new (yet old) way to give the giftof music.

The original (archaic) method ofwooing was the creation of a carefully selected medley of songs that conveyed your thoughtfulness, your poignant longing and, of course, your preternatural sense for the next big thing. But our current technology-fueled era of electronic, packaging-free playlists—in addition to the demise of your adolescence—seemed to render the quaint gesture of a mix tape obsolete.

Until, that is, the current computer-friendly rebirth of the phenomenon, created with just enough irony to remain palatable. First step: Create playlist. Second step: Upload it all to the portable memory stick attached to your computer. Third Step: Snap said memory stick into clever casing that looks just like a retro cassette tape—complete with rows of authentic (too small) lines for you to write in all the titles and artists comprising your latest musical masterpiece. Fourth Step: Bestow at will.

Fifth Step: Bask in the glory, reap the rewards.