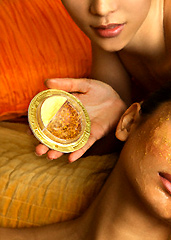 Gold.
You love it for its shininess, its value and, most of all, its
Austin Powers
sequel-ability. But you're about to discover a new reason to covet it...
Presenting the
Golden Radiance 24-Karat Facial
, Miami's first spa treatment to incorporate everyone's favorite precious metal, now available at Elemis at Merrick Park.
If you've ever wondered what it would be like to sit back, relax and have gold flakes massaged into your skin, this 60-minute treatment is for you.
To get started, you'll want to make your way to the Asian spa in Coral Gables, change into a silk robe and prepare for the kind of treatment once reserved for Chinese emperors, Roman athletes and Cleopatra (she apparently slept in a gold mud mask every night, and look how that turned out).
Your face will be washed with mineral-based cleansers and exfoliated using collagen-restoring serums. Then, the spa's skin-care guru will meticulously apply thin sheets of 24-karat gold to your forehead, nose, chin and cheeks. After 15 minutes (during which you'll receive a scalp massage and foot massage), the sheets will be massaged into your skin.
When it's over, your skin should feel tighter and carry a glow, and you may even notice fewer wrinkles (thanks to gold's minerals and anti-inflammatory qualities).
And since it's Spa Month, you can grab this for $99 rather than the normal $325.
Next up: the silver pedicure.