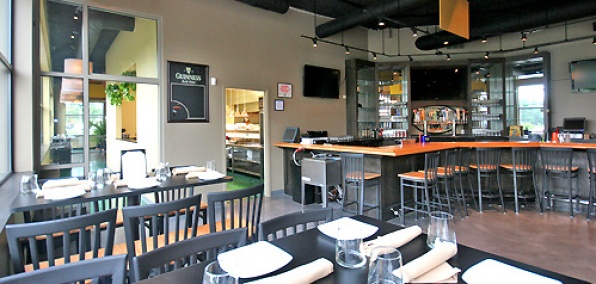 The heat.
Everyone's complaining about the heat.
Except you. You are literally the only person on earth doing something about it.
And it involves tequila. Possibly rum. If necessary, beer may also come into the equation...
For whatever tools you need to get the job done, we introduce
The Bar 10 Doors
, a veritable cooling center of global cocktailing soft-open Monday in Little Italy.
You may recall
we told you about
One. Six One a century or two ago (i.e., June). Gigantic patio. No ethnic cuisine left untouched. That was just half of the equation.
Now, after you've acquainted yourself with the pleasures of a dinner combining maki, tandoori and tacos, it's time to spend some time getting to know its boozier conjoined sibling.
The Bar 10 Doors will remind you of a hip after-work pub in downtown Dublin, a place to prop yourself at the long, curved bar for a Sox game and a good stout (they have 50 beers total, including 16 small-batch brews on tap), and half expect Van Morrison to walk through the door. (Or at least Colin Farrell.)
But next week, you'll be pairing cocktails with their geographically correct cuisine. Match
The Awakening
(absinthe and espresso vodka) with the short ribs in Pernod sauce, a tequila flight with mahi mahi tacos, a Dark and Stormy with...
...another Dark and Stormy.