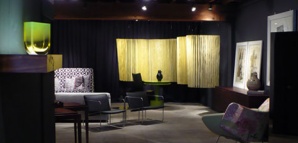 A man about town requires respectable environs—even when not about town.

Here to help you on your path to respectability, LIMN, the renowned West Coast art and home-design mecca, finally arrives in Los Angeles.

LIMN's modus operandi—pairing art with furniture—is so simple it should be more common. Within the sparse, industrial5,000-square-foot showroom, you'll find a well-edited collection of unique, modern furniture paired with unique, modern art suited for a unique, modern tastemaker (that would be you). Just past the entrance, a dining-room table sits inside artist Jun Ueno's large glass-and-white-steel "Magic Box," there by addressing all your room-within-a-room needs. And not far away is Luca Sacchetti's faux-fur swing suspended within a shell cloaked in fiber-optic lights (one can never have too many).

If you had more trivial, utilitarian furnishings in mind—abed, perhaps—you can find that here too, though it might be made entirely of glass. But whatever you select to fill up your floor space, make sure you checkout the striking Chinese contemporary artwork to fill up your wall space.

Better than your current striking contemporary blank space.