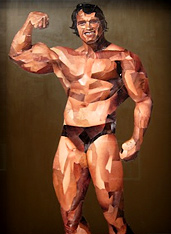 Photos of famous people are great.
But sometimes you're looking for a little more insight. A little more sizzle. Via some tiny little images of naked people...
That's just what you'll get when you see the new art show by
Jonathan Yeo at Lazarides Gallery
, now on view in Beverly Hills. It's called
Porn in the USA
, and if you look closer (or just keep reading), you'll understand why.
So imagine it. You're in Beverly Hills. The tourists are snapping photos in the streets, totally oblivous to what's going on inside the Lazarides Gallery on Beverly. Even if they catch a glimpse of, say, the portrait of Tiger Woods, it all seems innocent enough.
But if you step inside for a closer look at Tiger's face, you'll see it's not a painting—it's a collage. And if you take an even closer look, you'll see the images used for that collage are rather explicit... because they all came from porn magazines. (Legs, breasts, whatever.)
Yeo's done this with everyone from Tony Blair and George W. Bush to Sarah Palin and Paris Hilton—but this is his first solo show in the US.
We suspect you'll never look at an eyebrow the same way again...
Note:
<a target="_blank" href="http://www.lazinc.com">Jonathan Yeo at Lazarides Gallery</a>, now on view daily through August 8, noon-8pm, no cost, 323-202-6339