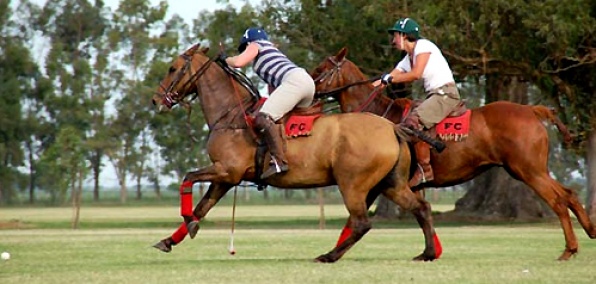 Some deals are sealed in the boardroom. Others on the golf course. But here's a trade secret: the showstoppers take place on the polo field.

So it's time to improve your skills on that last one... with the help of some sage Argentinean cowboys.

Welcome to Estancia El Venado, a polo school and cattle ranch in the heart of the Argentine Pampas that's now booking weeklong training retreats.

It's a dusty, sprawling ranch in the heart of South American cattle country—that just happens to house two practice fields, 200 well-trained horses and a pro polo player named Federico Cendoya. Feddy's thwacked his way to a five-goal handicap (that's the polo equivalent of a black belt), so he's got the wisdom to help you perfect your mallet swing in daily private lessons. And he has lots of pro friends who'll show up later for some practice chukkas.  

The ranch will also put you to work herding cattle around the 2,500-acre grounds—the thinking, we guess, is that if you can hop on a horse and get a thousand cows through a mountain pass, you should be able to get a ball through a few posts in front of your next client. Once that's done, it's time to retire to your humble hacienda to see what's for dinner.

Tomorrow, you might be herding 999 head of cattle.