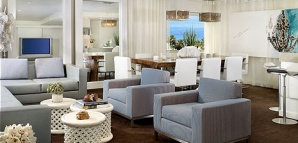 At this point, luxury accommodations are rather...expected.

But when you want to avoid the stodgy refinement of a "classic" hotel in favor of an ultramodern enclave with striking views of the city, you may wish to book the new Presidential Suite at the Huntley Hotel.

You've seen the panoramic vista of city lights and ocean from The Penthouse, the raucous restaurant and lounge on the 18th floor of the hotel...though the booming bass can be less than idyllic. Now that the last phase of the hotel's renovations are complete, you can enjoy the same view (sans a couple hundred strangers) in the loft-style, 1,000-square-foot Presidential Suite, located on the 17th floor.

Once you pull yourself away from the view, you'll find the requisite amenities inside the suite—flat-screens, wireless, mini-bar with wine refrigerator, a soaking tub that's visible from the bed—that are just as striking. And the decor, an only-in-California scheme of bright whites with sky-and-sand-colored accents, brings the beach inside. You might initially think it looks a tad obvious, but designer Thomas Schoos has a few surprises for you, like stingray-covered accent tables.

Which you don't usually see at those "classic" hotels.