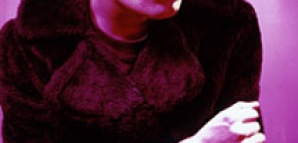 Your life is filled with interesting people.

But none quite like London-based Steve Gullick, who resides comfortably on the short list of top rock-and-roll photographers alive. His upcoming exhibit "Tenebrous" marks the first time his work will be formally shown in the states.

You may have seen his iconic images of Neil Young, Nirvana, Radiohead and Elliott Smith, but Gullick's beginnings were supremely modest—in the early '90s he and his camera could be found shooting for a friend's fanzine. It didn't take long, though, for his work to get noticed, and soon he was recruited by bigger publications—and bigger bands.

The next decade can best be summed up as an amalgam of drunken Britpop concerts in East London, frequent shoots for in famous music magazine NME, a trek up Europe's most active volcano and the publication of several books. (Inspirational source material didn't seem to be in short supply.)

All of which culminates in this month's "Tenebrous" show, which sifts through those years to cull 30-somephotos of your favorite musicians that have never before been printed.  And at the opening reception, you can get the stories behind each image from the man himself.

And perhaps share a few of your own.