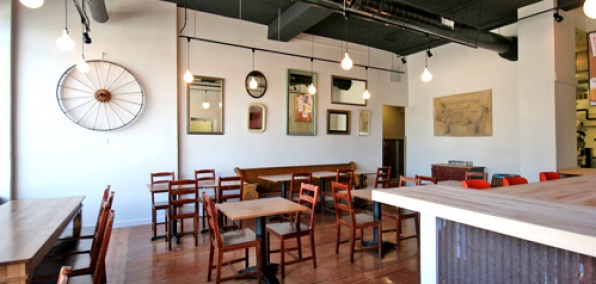 [Option_A_Left_Column]This weekend, you'll reflect on all the things that make this country great.

But next weekend, just concentrate on the bourbon and the barbecue.

Here to keep you focused: Pork Shoppe, a new joint for barbecue in all of its smoky, sticky, sweet, tangy, spicy glory, slated to open after the holiday.

Be warned: you will be greeted with a full-spectrum sauce assault—from the finger-licking molasses variety, to a vinegary Carolina style, to a habanero firebrand called the Wicked Spicy Sauce.

Though this is from the guys who brought you Tizi Melloul, they've traded belly dancers for Pork Belly Pastrami and I Dream of Jeannie decor for what looks like an old Amish barn—though it smells like someone's burning all the oak and cherrywood furniture.

Since all the meat is sold by weight, you'll squeeze in, order at the counter, have a seat at one of those big tables near the front and leave the heavy lifting for the staff. Soon you'll be plowing through baby backs, St. Louis-style ribs, pulled chicken, sides of mac and cheese and baked beans larded with the crispy ends of brisket.

Once they get the liquor license, you'll belt back bourbons and craft brews, but for now, if you're looking for a chaser, they do have housemade popsicles. Well, you might be better off just bringing your own.

Whiskey, not popsicles.