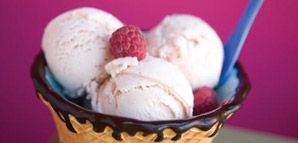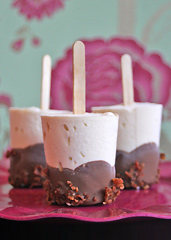 Summer in the city.
One second, it's hot and muggy. And you crave something cold and refreshing. The next, it's dark and stormy. Now all you want is to sink into something a little more bourbony.
But throughout it all, one thing remains: you could really go for some bacon.
So may we present the answer to your weather-related appetites:
Black Dog Gelato
, opening Friday in Ukrainian Village.
You'll squeeze into this tiny corner spot, which at first glance looks like your average sweet pink-and-white-striped purveyor of ice-cold refreshments. Nice, but nothing worth braving crosstown traffic on a hot, muggy and/or thunderstormy Saturday for. Not yet.
But something changes while you're staring into that little gelato case.
Mexican Hot Chocolate.
That's nice, you'll say to yourself, I think I'll have that. But, oh, wait. You see
Goat Cheese-Cashew Caramel
and reconsider.
By the time you're debating
Sesame
Fig Chocolate Chip
or
Cocoa Nibs with Pecans
, you might remember that the owner honed her pastry skills at Scylla under
Top Chef
's Stephanie Izard. Your decision has become tougher. And then... you see it.
There, right in front of you:
The Whiskey Gelato Bar
. (You may hear a small angel sing "Hallelujah," but no guarantees.) It's a creamy, whiskey-spiked gelato dunked into even creamier milk chocolate. The whole glorious smoky-malty masterpiece has been rolled in some crispy, salty bacon. And it's on a stick.
In other words, right where you want it.