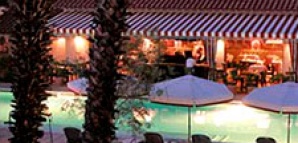 When pondering the New Year, your thoughts often drift to new desert getaways.

And while others revert to yet another excursion to the Viceroy (been there) or the Parker (saw that reality show), you're feeling more...forward-thinking.  So you might be interested in taking a chance on a weekend at the ColonyPalms Hotel.

Renovated this year with the help of $16 million or so, the boutique property was built by a mobster in 1936, and had its share of glory days as a brothel, speakeasy and gambling den. (Those were the days...) The 56new rooms are decked with the expected 21st-century accommodations, but you'll be most interested in the 10 casitas with private two-person outdoor bathtubs.

If you two find time to dry out elsewhere on the property, you'll be surrounded by an international take on those early days in the '40s, with vintage black-and-white photos, French tiling and Uzbekistani suzanis throughout. (Weekends aren't weekends without the necessary Uzbekistani touches.)

In 2008, the owners will attempt to concoct a trendy weekend scene with the help of a poolside DJ—as well as a jazz brunch at the hotel's wine-friendly Mediterranean restaurant The Purple Palm, which is overseen by the chef from the private Foundation Room within the House of Blues.

Your presence, of course, would help those goals along nicely.