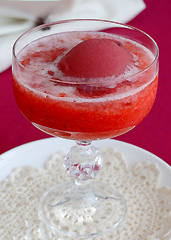 In your youth, cooling down after a summer afternoon of merriment and mirth meant a cup of frosty Italian ice.
If you've had one recently, you know that they generally stand the test of time (especially in heat like this), but are missing something.
Namely, booze.
Which is why we were excited to hear about
Boozy Italian Ice
, the new so-simple-it's-genius summertime offering at the Metropolitan Club, now available off-menu.
Basically, this is the best thing to happen to shaved ice since the Slurpee. And here's how you'll take full advantage of it: the next time you find yourself sweating in the oppressive summer heat, you'll want to make a quick pit stop in Chestnut Hill.
Once inside the steakhouse/bar/restaurant that is the Met, wipe the moisture from your brow as if auditioning for a Silver Bullet commercial. Then, ask the bartender or a waiter for one of the three spiked Italian ices that are now up for grabs.
There's a
Watermelon-Vodka Italian Ice
(nothing says summer like watermelon... and vodka) and a
Tamarind and Spiced Rum Italian Ice
. But if you really want to keep it mother country-ish, go with the
Limoncello Italian Ice
, stocked with limoncello they make in-house.
The ice is also made in-house.