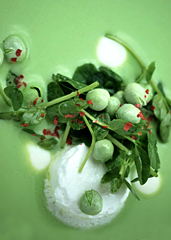 You and your ravenous appetite.
We're not here to judge it, defend it or explain it. And we wouldn't dream of suppressing it. Today, we only come in service of it.
So may we present
The
Repertoire Menu
at Graham Elliot
, a breathtaking 20-course culinary marathon that just might be the only civilized way to look at a menu and say, "Bring me everything."
You should already be familiar with Graham Elliot (foie gras + Pop Rocks = rock star chef). So you might think of this as your refresher course in Grahamology. You'll be escorted to the copper table near the front of the dining room, where you'll spend approximately the next three-and-a-half hours indulging the night away.
You'll begin the evening innocuously enough. A single ounce of white tuna sashimi (with cocoa nibs) arrives. Then comes a deconstructed Caesar salad in bite-size form (complete with a brioche Twinkie), a tiny version of the real thing that looks as if it's been shrunken by a ray gun. After that, you'll embark on a journey of bite-size dishes through a land where scallops are poached in ham fat, where hushpuppies are made from sweetbreads, and Altoids jus accompanies your lamb chop.
If you work up a thirst—pretty much a given—opt for the pairings, which go from wine and beer to soda.
Depending on what goes well with Altoids.