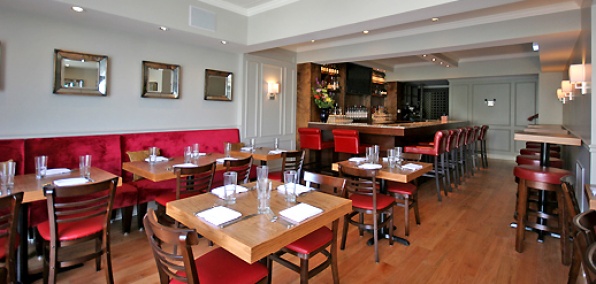 With a weekend full of champagne toasts, lobster dinners and snifters of cognac behind you, it's time to focus on the simpler things, the things that really matter: like a good burger next to a heap of crispy fries.

So let's break out the Kobe beef and start heating up the duck fat.

Introducing The Portage, a swanky new date spot opening this Wednesday in Portage Park.

While this is from the mad genius who started Tizi Melloul, neither belly dancers nor hookah pipes will be involved, for better or worse.

Instead, this space—most recently a scrubby tavern nestled in the ground floor of a two-flat—feels like you've dropped in on a friend with a penchant for smoky antique mirrors and red velvet (and you're okay with that).

Start the evening cozying up on the leather couch in the library, where (after the liquor license comes through) you'll thumb through the collection of West Coast wines. But this weekend, head straight to the backyard, where a gurgling fountain and Brazilian hardwood walls keep that frantic pace of Portage Park at bay.

And if the summer breeze, Kobe burgers, duck-fat fries and bubbling cauldrons of mac 'n' cheese inspire you to engage in a little post-dinner lingering, buttered-popcorn-flavored ice cream will eventually be served between two gooey homemade cookies for dessert.

The summer blockbuster you've been waiting for.