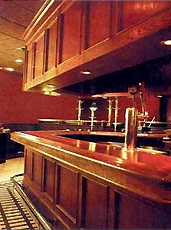 Sometimes you have to go to strange places to get what you want.
Like to the French Quarter to get a Bellini. To Fargo to hear a great bluesman. And to a curiously low-grade corner of the Internet to get someone to make you an oak bar with your name on it. In gold.
Welcome to
CustomMade
, an online service devoted to finding your next piece of custom furniture, online now.  
Basically, it's like having an online guy who knows a guy—you'll be put in touch with hundreds of furniture gurus from around the country.  
So the next time you're looking for something to tie the room together—say, a humidor shaped like a bald eagle or a coffee table with custom martini glass holsters—you'll log on here and search. Your results: a bevy of goods made by ancient bearded men listening to whale songs in cluttered garages. (Or so we assume.)  
And because you can search by location, you'll be able to ensure that your next boat, electric guitar and/or stained glass window (depicting yourself, naturally) is made by a guy in a remote corner of Baltimore.
You wouldn't want a boat from anywhere else.