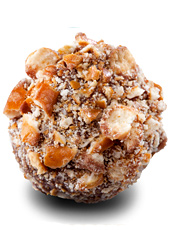 Beer: fizzy, malty and, generally speaking, good.
Pretzels: twisty, salty and, generally speaking, also good.
Truffles: no explanation required.
So when we heard that some visionary had thought to combine the three, we figured we had to drop everything and tell you immediately.
Which brings us to
Beer-and-Pretzel
Truffles
, the latest development in the ever-growing field of booze-enhanced foodstuffs, now available from Truffle Truffle.
This is what Willy Wonka would have churned out in his factory if he had spent more quality time with his Oompa-Loompas at the corner pub. Step one: your chef crushes some milk chocolate into bite-size morsels. Step two: she blends in some beer (an American chocolate stout, if you're scoring at home). And then, finally, she adds the crunchy coup de grâce: the whole thing is rolled in crushed pretzel bits, giving it that frothy-salty-sweet flavor you didn't know you were craving.
So let's take that dinner party you're invited to this weekend. Maybe you don't know whether it's formal (jacket and tie), semi-formal (jacket, no tie) or quasi-formal (tie, no pants), and you don't want to upset the hostess with an inappropriate bottle of wine and/or keg of beer. Here's what you do: come bearing these boozy little spheres instead.
Consider it buying the first round.