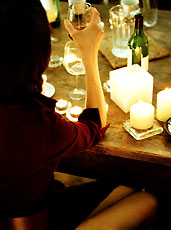 Restaurants are great. We love them. 
But sometimes... to really experience a one-of-a-kind dinner party (good food, good wine, sexy strangers), you have to go to a private home in Southie for one night only.
Dressed like Hemingway.
Introducing
Hills Like White Elephants
, a clandestine supper club popping up somewhere in South Boston on June 13, now taking reservations.
Essentially, this is what all your dinners would be like if you were born in 1899, considered F. Scott Fitzgerald a friend and spent most of your days writing lean, masculine stories about war and bullfighting before drinking yourself into a stupor.
The adventure starts in daylight, around 3pm, when you arrive at a huge private residence someplace in South Boston—only ticket holders will know the address—wearing your best 1920s-era tuxedo (or really, whatever you want... this is your day).
In a room done up like a Hemingway short story (specifically, "Hills Like White Elephants," hence the name of the event), you will be handed a Spanish liqueur that tastes like licorice and treated to demonstrations of skill—knife-sharpening, sausage-making, etc.—by a man who has pulled off similar nights in London, NYC and Panama City.
When you're suitably enthralled/hungry, you and your 39 co-guests will feast on seven wine-paired courses prepped by chefs from around the world—everything from trout, oxtail, lamb loin and short ribs to potatoes, smoked blue cheese and tuna sausage.
Papa loved tuna sausage.