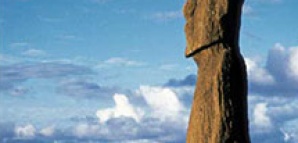 Get ready for the second coming of Easter Island.
Rapa Nui, as it's known to the natives, is one of the most remote specks of land in the world—flung 2,300 miles from Santiago out into the South Pacific—making the Moai, the enormous stone heads that dot its landscape, all the more mysterious. Today it's home to only four thousand people (plus almost a thousand Moai), leaving the Pacific beaches, volcano craters, and mystery sculptures open for exploration.
Opening this month, Posada de Mike Rapu imports a new level of luxury to the "navel of the world." The newest offering from the much-touted Explora group, whose Patagonian and Atacaman outposts have already remade high-end South American travel, the resort's 30 rooms are built right into the oceanfront cliffside, with native volcanic rock and enormous picture windows. From here, you'll hike volcano craters and bathe in natural springs, explore the ancient caves and see some Moai along the way—all led by Explora's expert guides (many native Rapanuis), who provide the local lore and gourmet lunch. And from the hotel, you'll enjoy open-air jacuzzis, an unspoiled beachfront, the almost-tropical summer sun, panoramic views of the Pacific...
Remote and indulgent—definitely two of our favorite things.